Play Poinpy, Trending Star of Netflix's Newest Mobile Game
Tue, 09 27th 2022, 7:51:30 PM Posted By Nimi Qaisar
Spare some minutes from your binge-watching & Play! That's what Netflix is saying about its Poinpy game. Super cute graphics, easy & engaging gameplay. Have a look at this star of Netflix mobile game that has got everyone's attention nowadays.
If you are still unaware of the gaming mode of Netflix, offered to mobile app users then wake up bruh! Get out of that binge-watching streak! For sure Netflix is hard to shut down once you begin with your favorite web series but you need a break buddy. And that's why Netflix introduced these easy-peasy super "cutie" games in its mobile app.
Out of those, Poinpy has been gaining a lot of attention these days. The game has a very simple & funny story. A blue-headed huge monster is chasing you. Why? "Cause you bonked on its head!" That's how its designer Ojiro Fumoto would like to define it. And a tiny fella who goes by the name- Poinpy is set over a never-ending chase to satiate the hunger of this blue monster lurking at the bottom. It will catch whatever drops from above, even Poinpy! It is a delightful, Lil difficult & adventurous Netflix game that you should play.
What You Have to Do?
The player has to escape away from the blue monster and keep collecting different fruit juices along the path to keep the monster happy. Different environments with new and surprising challenges, enemies, and gameplay mechanics will arrive in this streak of running & dangling throughout the path. And you'll run them over to reach the final.
Where Can You Get Poinpy?
Just install Poinpy from the Gaming section of Netflix's mobile app for iOS and Android. Or you can go straight over PlayStore to manually search this game. Further, it'll open in Netflix mobile app to start your Poinpy adventure. Netflix game Poinpy came around as part of a new partnership with Devolver Digital, where the multitalented designer Ojiro Fumoto established this unique wonder with another artist who goes by the name Error 403.
The game garnered more emphasis on the fun and approachability of the game rather than on making it difficult for everyone. Hence you can easily try this Netflix game even if you are not so much a "gamer...gamer".
What's the End Reward?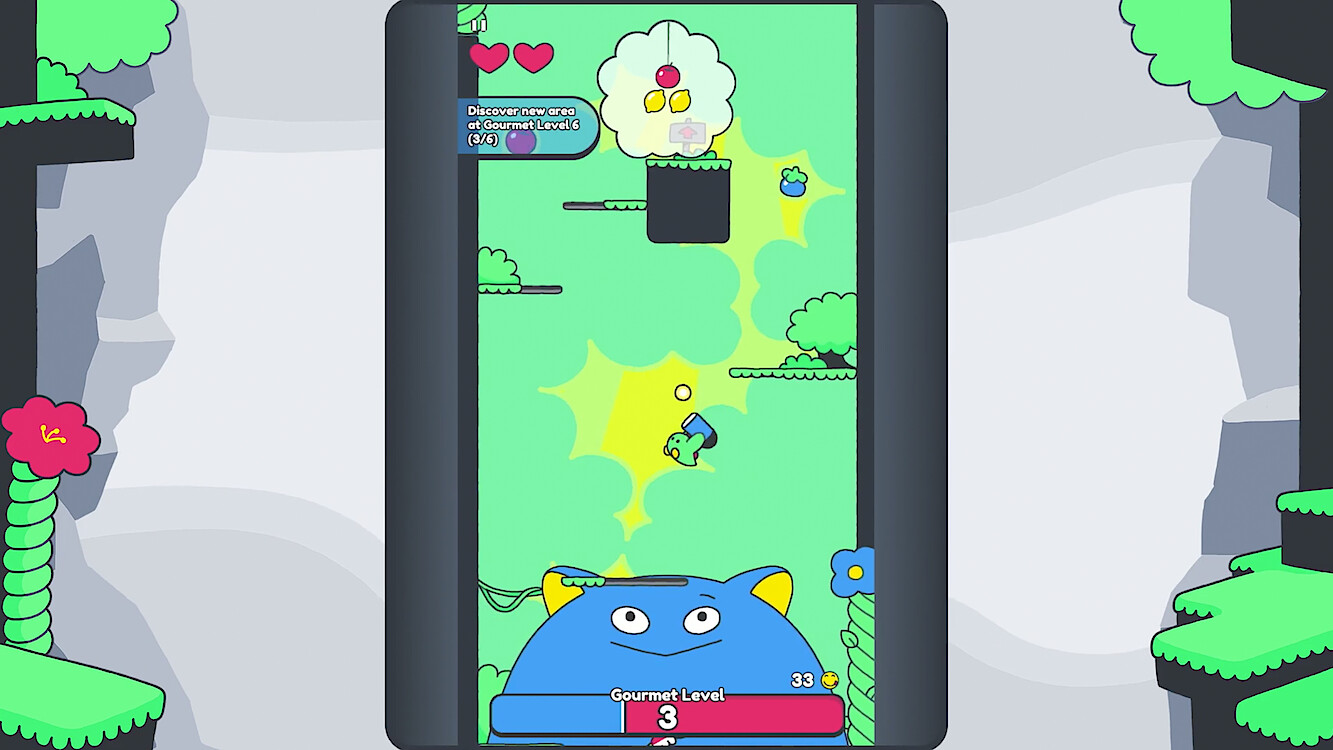 Source: www.netflix.com
You unlock an Endless Mode at the end of Poinpy Netflix game that allows players to grab the highest combos possible. And once you clutch down 4 jump orbs, Fumoto has revealed a tip- "[T]ry looking around in the lobby screen (where the beast is sleeping) to unlock the Puzzle Mode, which should help teach you some useful tricks!"
Get...Set…Go Poinpy! Surely you can spare some minutes to have a little blast with this amazing Netflix game. And don't worry Netflix has some big plans for die-hard gamers too!
Read: Netflix Establishing New Game Studio in Finland
Though if you want some real action "Righ Now" then go ahead and register yourself for the Jagran Play eSports Tournament 2022. We are inviting some big esport gamers & open entries for this huge battle. For more catchy updates related to gaming, gadgets, blockchain games & esports stay tuned with Jagran Play.